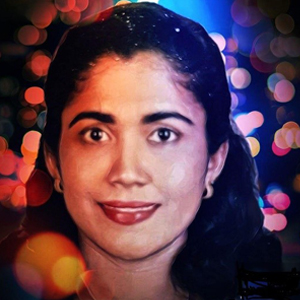 Mabel Ires Fernandez
Qualifications:
Teacher's Training Certificate
Diploma in English as Second Language
Bachelor of Education in Teaching English as Second Language
Masters in English as Second Language

A teacher who advocates education for all, regardless of age limit, Mabel is a well-experienced, dedicated and passionate high-school teacher with a keen interest to upgrade the standard of English among the youths and the adults of today.
She advocates the importance of the English Language for an excellent education and the opportunities it provides if one masters the language.
As the Head of the English Panel, she monitored results and planned strategies to upgrade the grades in English from Form 1 – 5. Results proved successful, as number of grade As' increased and school obtained 100%passes for English yearly.
She is sensitive towards students' needs especially in their social, spiritual and emotional development.
Her vast experience includes as a Key Personnel for training teachers in Geography and Literature at district levels. Also one of the teachers assigned in the selection of literary texts for secondary schools by KPM, speaker for English Language for SPM and PMR seminars. She had also been an examiner for SPM, PMR and the current CEFR examinations. To add to her credits, she had been the regional officer for PMR examination.
---
Joseph I Lopez
Qualifications:
Pre-degree (First Class Pass)
Bachelor in Science Degree (First Class in Physics, Chemistry and Mathematics)
Masters in Science Degree (In Systems Theory, Solid State Physics. Exploration
Geophysics and a Thesis)
Diploma in Teaching (University of Canterbury, NZ)

As a senior lecturer in Physics, Joseph's commendable experience includes teaching and guiding students of GCE O-Levels, GCE A-Levels ( Cambridge Board and Edexcel Board), Western Australian Matriculation, National Certificate of Educational Achievement Year Twelve (New Zealand).
His teaching of Physics is well acclaimed among students of Pre-degree the Klang Valley and the region of Kuala Lumpur.
Joseph incorporates creative interactive presentations with the usage of relevant software ( e.g. PhET simulations, Smart board,) in his teaching of Physics. He had implemented lab activities based on scientific methodology and real-life physics application. Among his implementation of his professional skills, he fostered a positive learning environment by incorporating team building activities and positive reinforcement techniques with his great sense of humour. His keen interest to see students achieve, is the reason for his students to excel in Physics.
His jovial, easy-going, friendly nature helps students to approach him on areas of academic, social and emotional problems which he assisted to the best of his ability.
His spectrum of experience includes teaching in New Zealand for eight years, two years at Garden International School Kuala Lumpur, two years at Damansara College Kuala Lumpur and finally at Methodist College Kuala Lumpur for twenty-three years. All in the field of Physics. He had also worked at the Blood Services Centre under W.H.O, General Hospital Kuala Lumpur in technical aspects pertaining to Hepatitis B research activities using radioisotopes and other immunological methods.